Best Way to Tour Sun Moon Lake Taiwan (日月潭) 2020
Best and Cheapest Way to Tour Sun Moon Lake Taiwan 2020
SUN MOON LAKE TAIWAN: INTRODUCTION
SUN MOON LAKE TAIWAN (日月潭) | NANTOU COUNTY. If you are ever in Taichung, then you must make a detour to visit Sun Moon Lake (日月潭 Rìyuètán) in Nantou County, Taiwan. Sun Moon Lake is Taiwan's largest body of water, and its shape resembles a round sun on the east and a crescent moon on the west, hence its name.
GETTING THERE
I was lucky to have a local friend drive me there from Taichung, but if you are traveling solo or as a group, the best and cheapest way is via direct shuttle bus.
FROM TAICHUNG
The shuttle bus runs from Taichung's High Speed Rail Station, Gancheng Station, or the Railway Station. Tickets costs NT$195 (~$6-$7 USD) one way or NT$360 ($12 USD) round-trip.
➡️ For the full list of fees, click here.
You can also purchase a transportation package, which includes transportation to/from Taichung, boat tickets, cable car tickets, bike rental vouchers, and various shopping coupons.
FROM TAIPEI
The Kuo-Kuang Bus (國光客運) goes directly from Taipei Main Station to Sun Moon Lake, with one stop in between. Tickets cost NT$385 ($13 USD) each way or NT$690 ($23 USD) round-trip, and the ride takes roughly 3 hours each way.
Although you can first take the High Speed Rail directly to Taichung (NT$560 or $19 USD each way), the total amount you spend for both the High Speed Rail and shuttle bus combined can come out pretty costly. I recommend that you spend some time in Taichung to make your trip worth it if you plan to visit Sun Moon Lake.
➡️ Also see: Taiwan High Speed Rail Discounts for Foreigners and Solo-Travelers
EXPLORING THE LAKE
You can drive or take the bus around the lake, but the best and most scenic option is to take the boats to the different piers.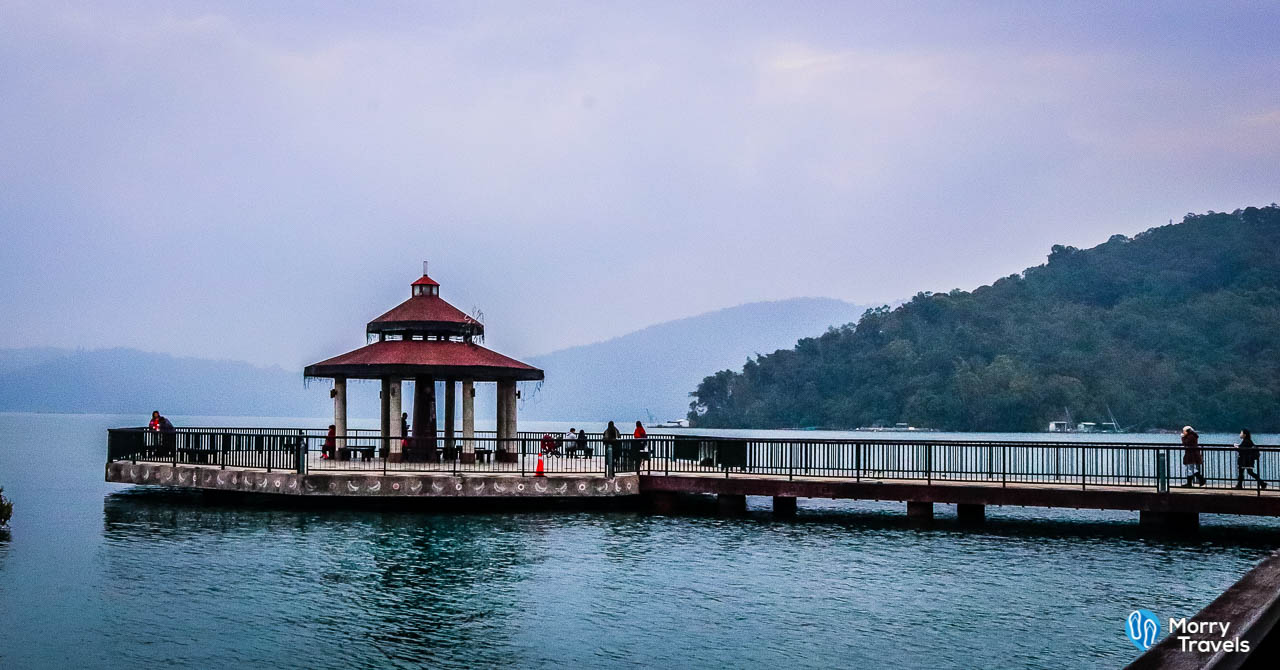 BOAT TICKETS
There are different companies that you can buy tickets from. An adult ticket at the boat entrance costs NT$300 ($10 USD), but the best way is to haggle it down. I went on a weekday and was able to purchase a ticket for NT$120 ($4 USD).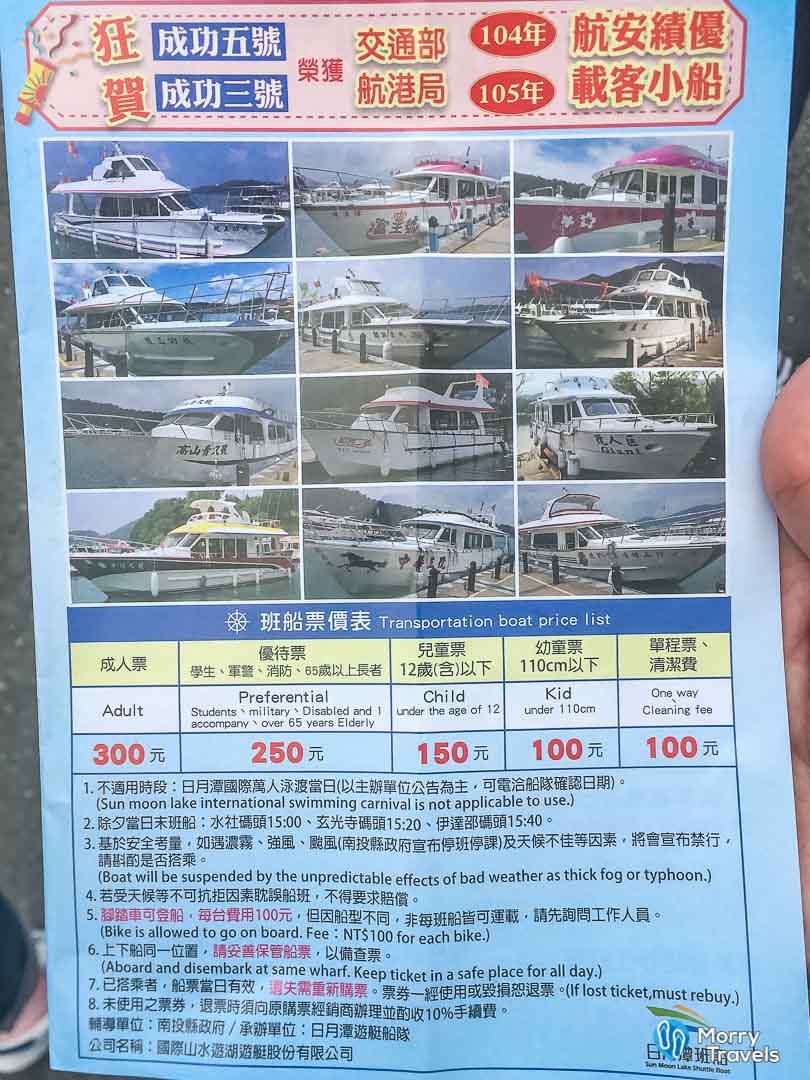 TOUR PACKAGES
You can also consider purchasing a full tour package from the following websites. This is just like the transportation packages above except you also get direct hotel pick-ups, a tour guide, lunch, and insurance.
KKday
Transportation
Tour guide
Lunch
Insurance
Bicycle rental*
Cable car tickets**
Boat tickets
Sun Moon Lake Guided Day Tour:
Transportation
Tour guide
Lunch
Insurance
Boat Tickets
Klook
Hotel pick-up/drop-off
Tour guide
Lunch
Insurance
Boat Tickets
THE BOAT SCHEDULE
The boat leaves every half an hour from the piers.
THE PIERS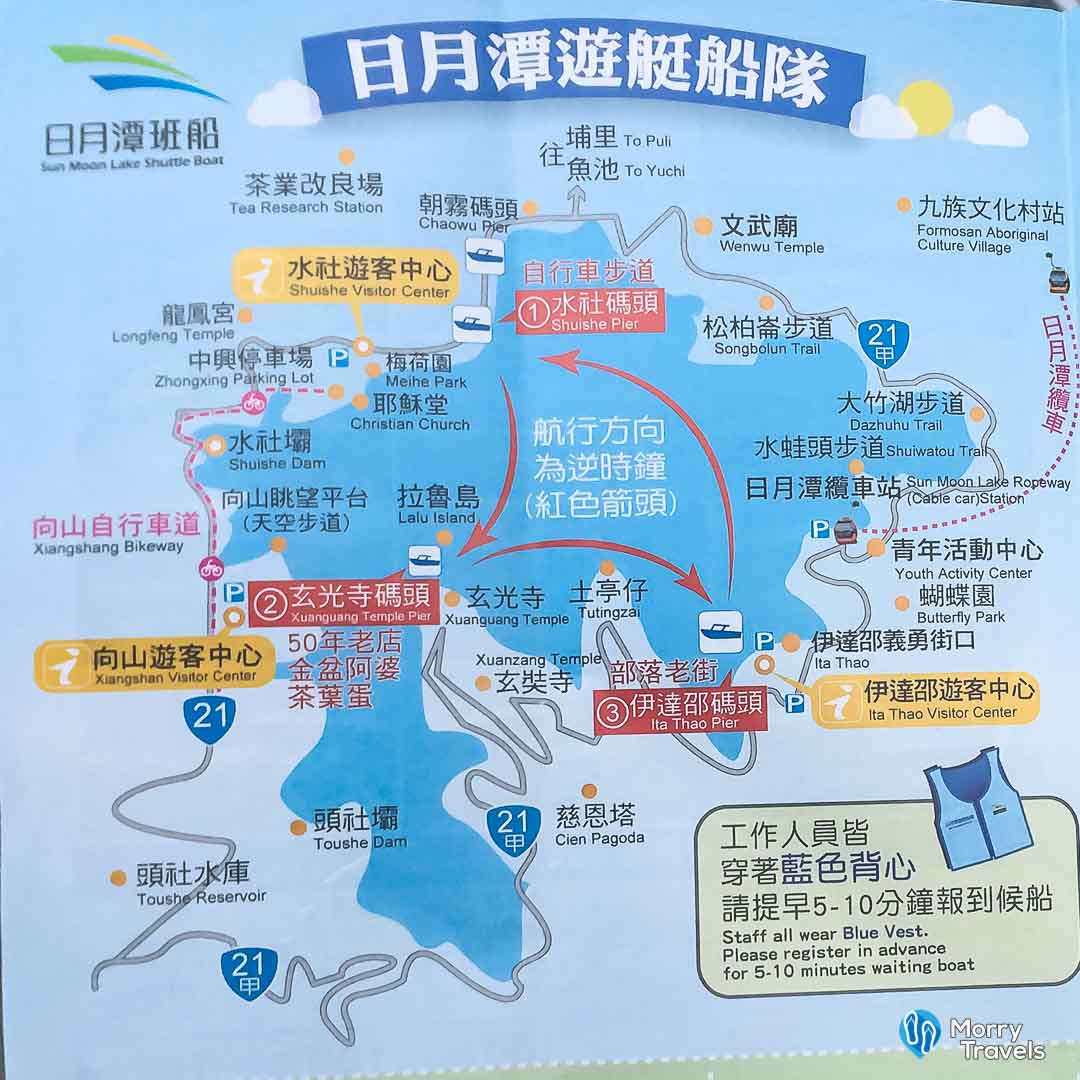 You can start at either of the three piers around Sun Moon Lake, but the easiest is to either start at Shuishe Pier or Ita Thao Pier.
1. SHUISHE PIER 水社碼頭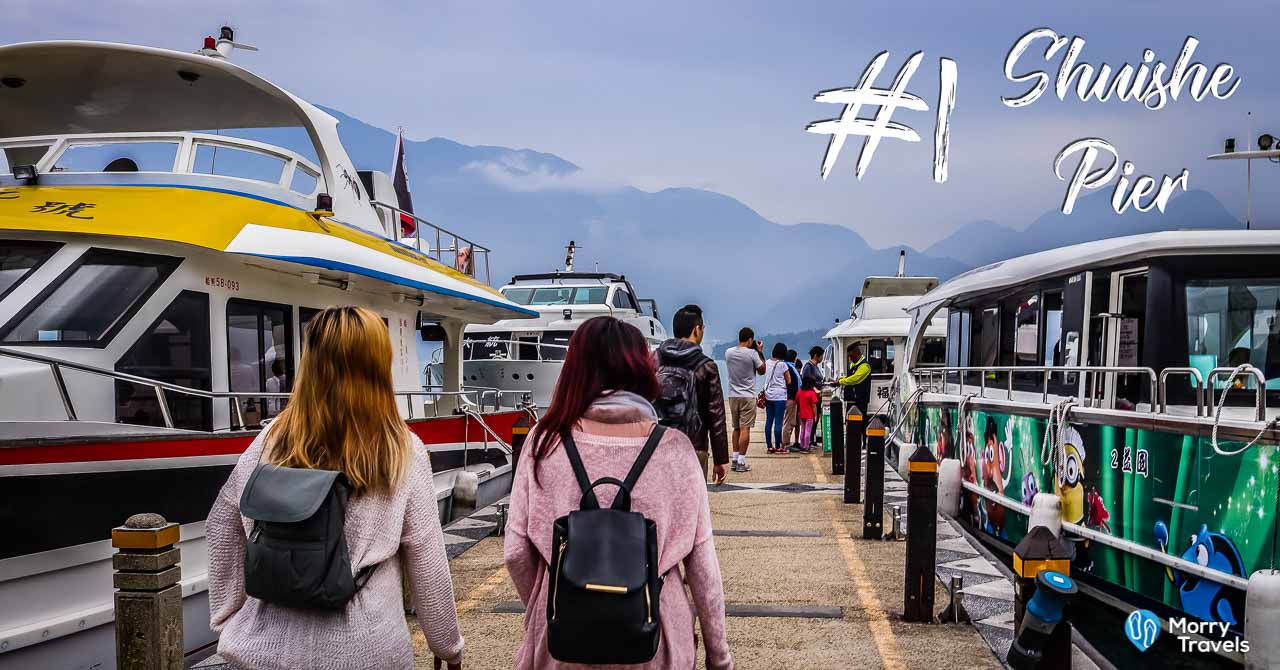 We parked our car at the ZhongXing Parking Lot and made our way over to the pier. The area has various shops and restaurants–Visit the shop that makes egg rolls with black tea eggs! The Shuishe Visitor Center (水社遊客中心) has visitor information, bike rentals, souvenirs, and picture printing services.
2. XUANGUANG TEMPLE PIER 炫光寺碼頭
Here, make a quick pit stop for the famous tea eggs. There are also some great spots for the avid photographer.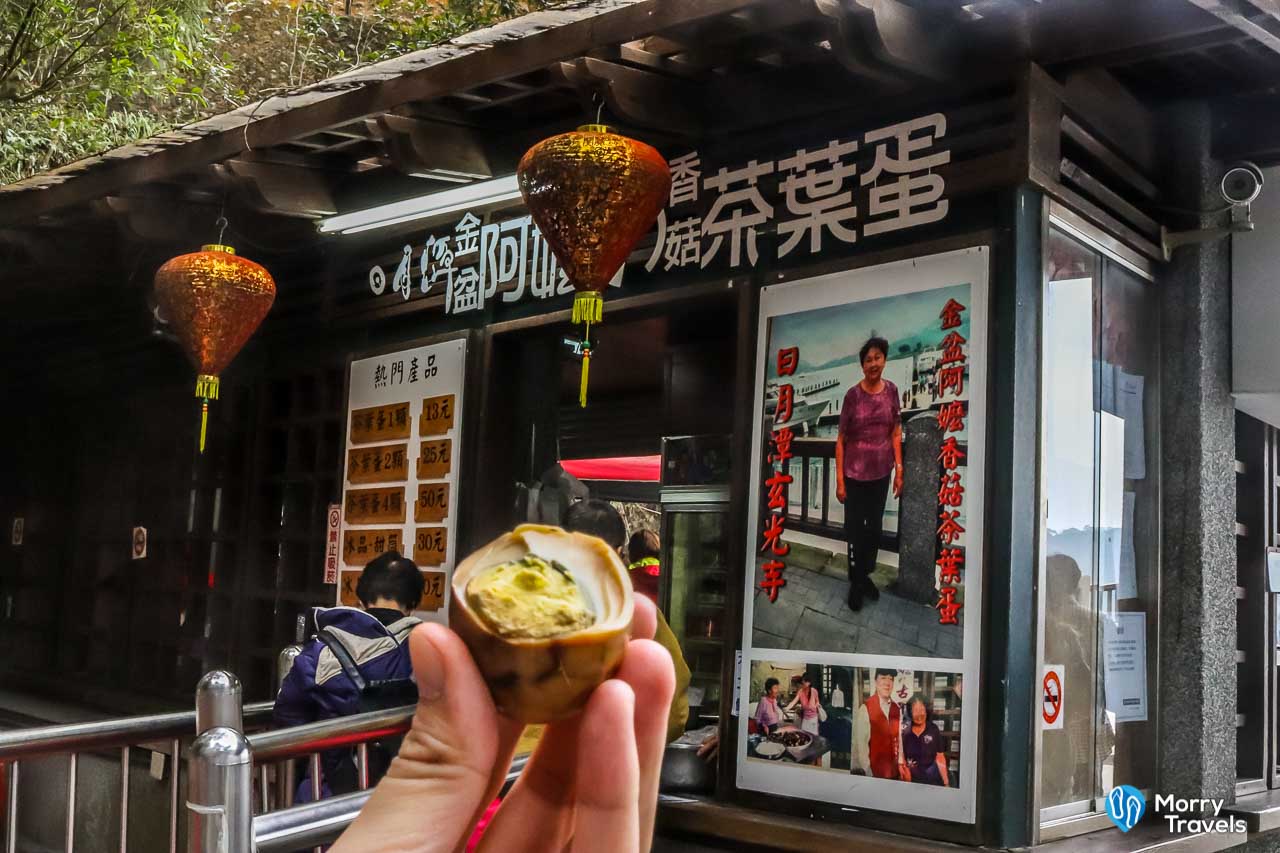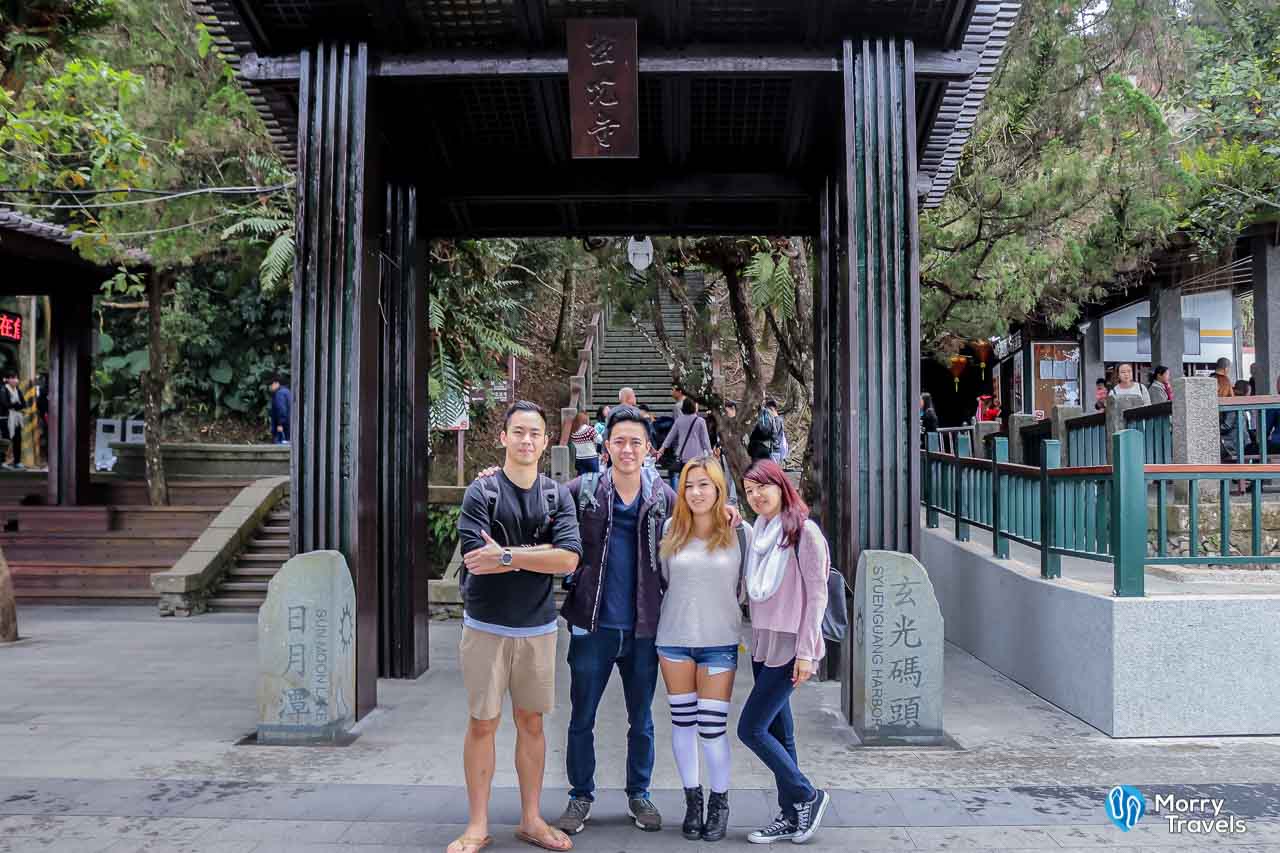 3. ITA THAO PIER 伊達邵碼頭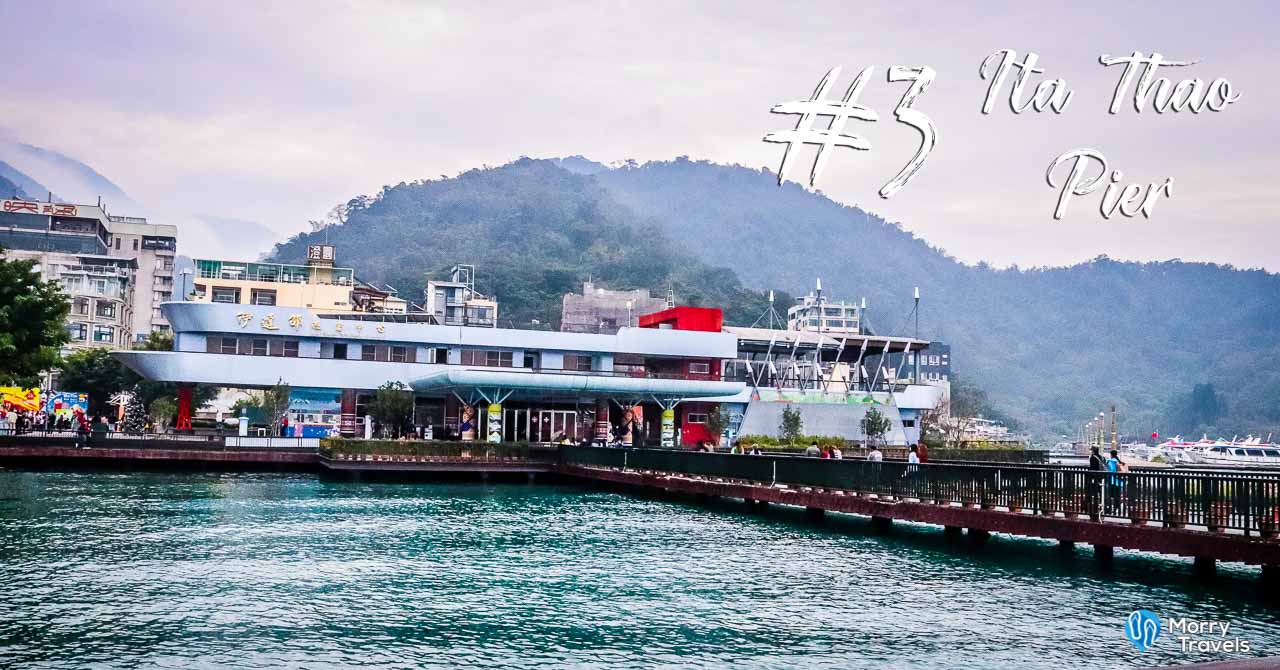 In this area, you can explore more restaurants and shops. There is also a semi-hidden spot with a great backdrop for photographers. A further walk takes you to the Rope Way Station, where you can take a Cable Car up to the Ita Thao Aboriginal Village.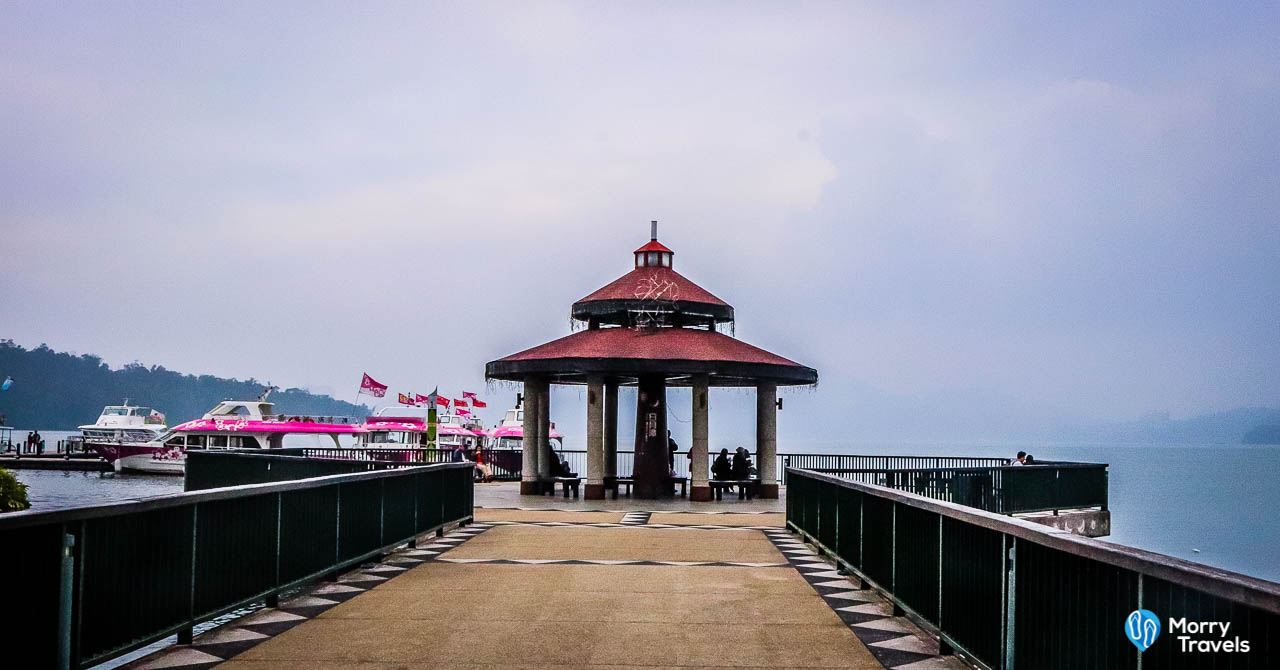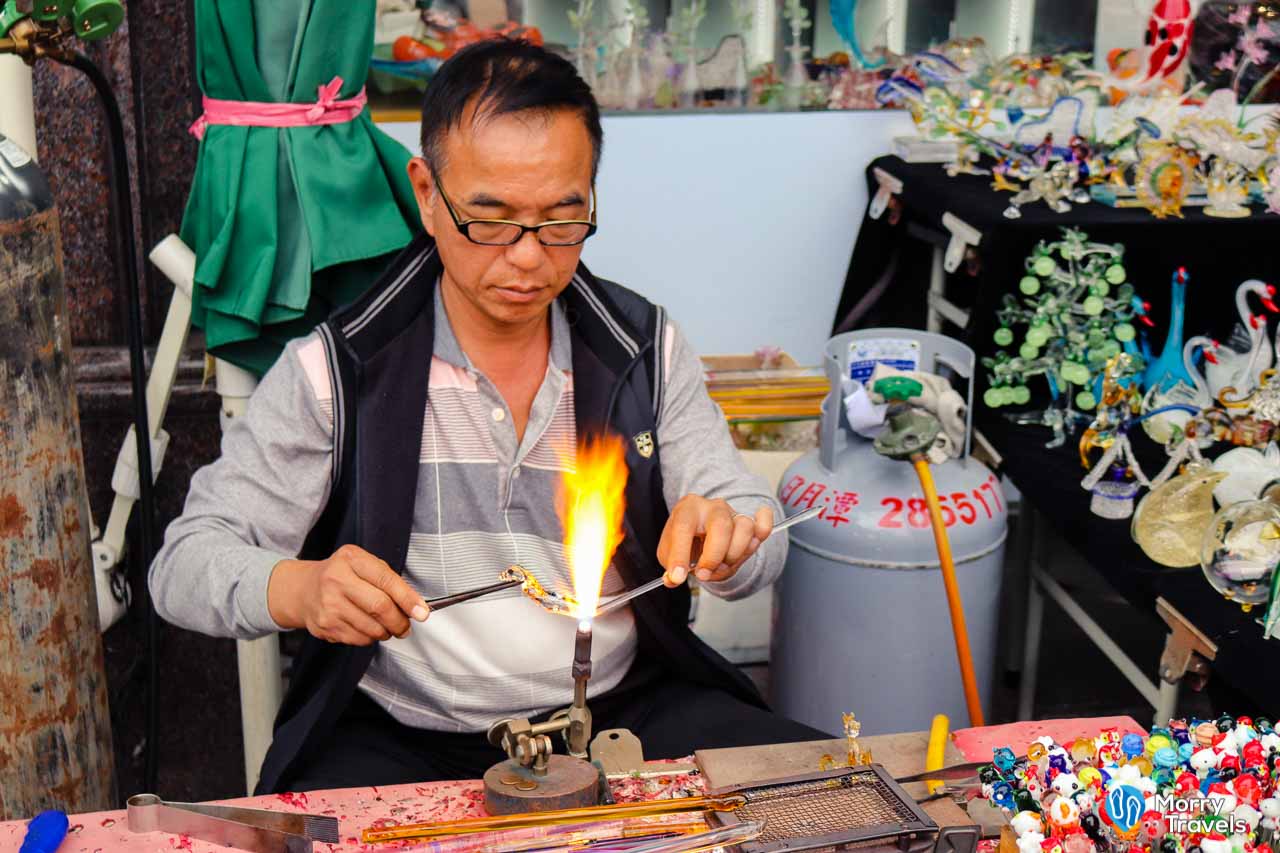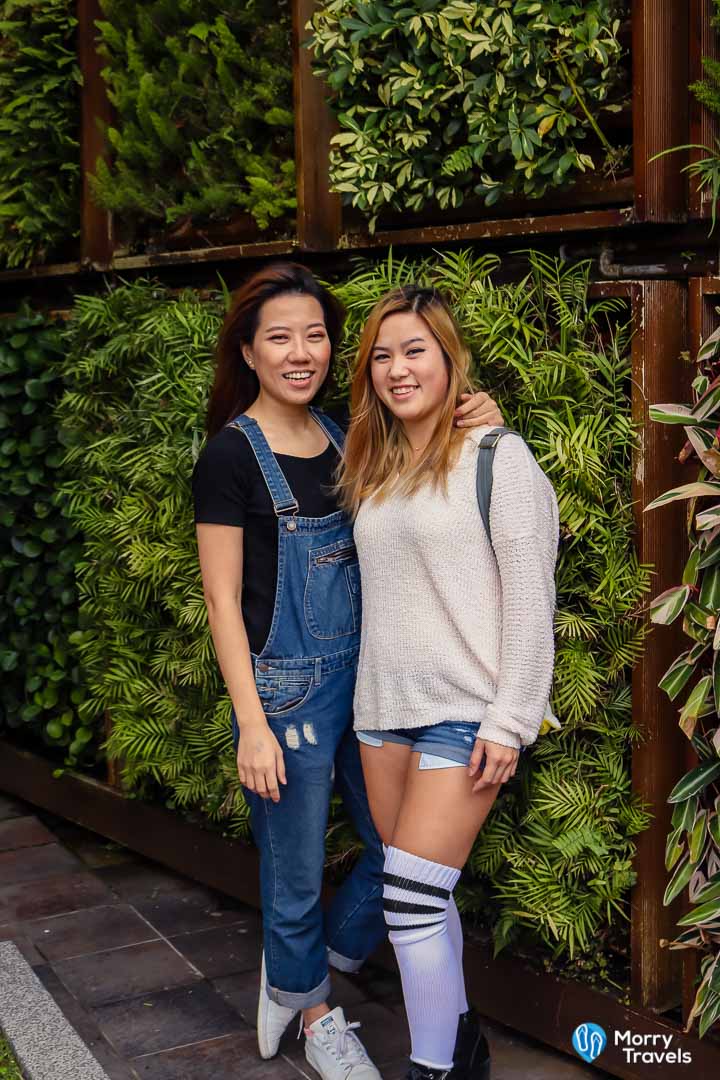 ROPEWAY (CABLE CAR)
Unfortunately, the Ropeway area was roped off for construction the day I went. However, if you get the chance to go to the top, there is an Aboriginal Amusement Park Village for you to explore. The price for an Adult round-trip Rope Way ticket is NT$300 ($10 USD).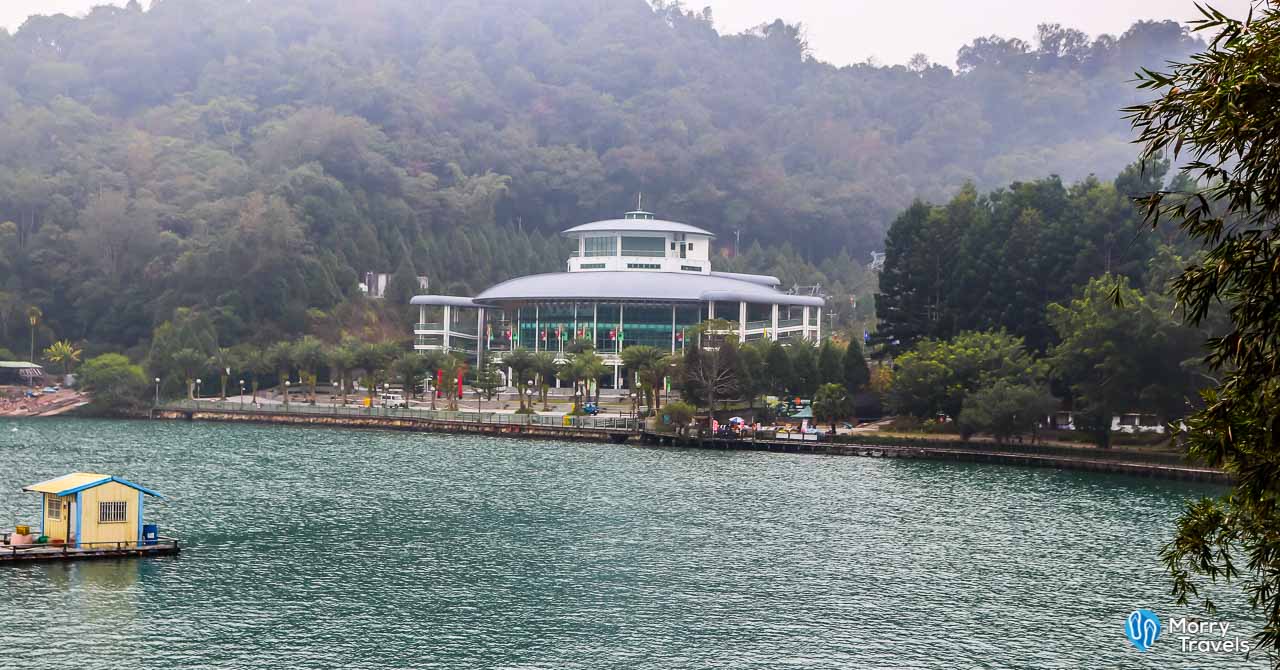 RESTAURANT: 日月潭富豪群水果餐

We ended up eating at 日月潭富豪群水果餐 near the Ita Thao Pier based on a local friend's recommendation. We were the only ones at the restaurant around 4PM, but I enjoyed the variety of dishes they served. My personal favorite was the Beef and Apple Slices dish.
FINAL THOUGHTS
Overall, I enjoyed Sun Moon Lake's great views and photo spots. Definitely try the tea eggs, negotiate when you shop, and go on a clear sunny day to get the best views.