Days 4-5: Off to Kaohsiung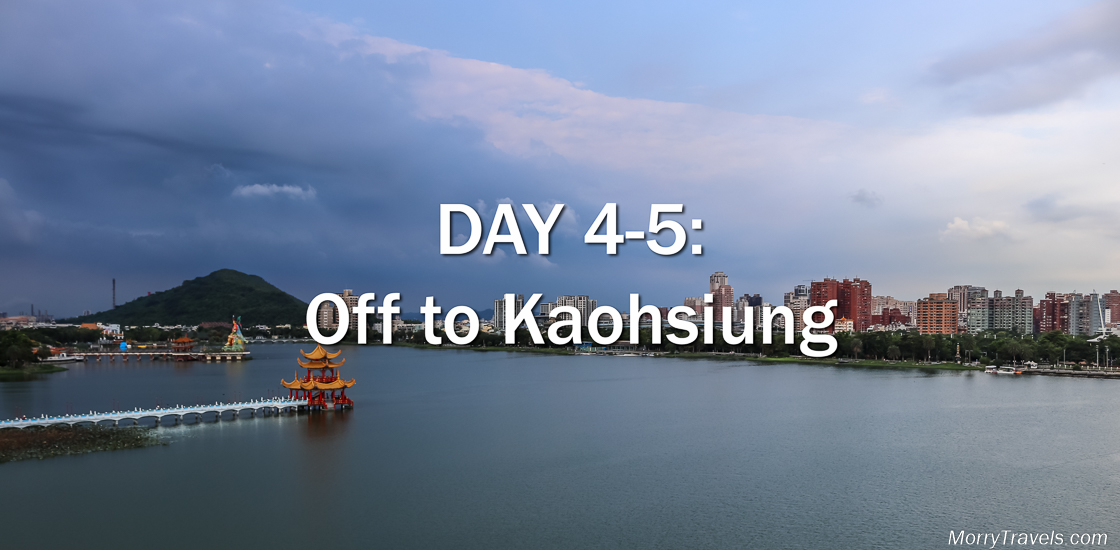 DAY 4:
After a 3-night stay in Space Inn Hostel in Taipei, I've decided to head down to Kaohsiung. I got sick of only being in Taipei every time I come to Taiwan, so I decided to put my adventure hat on and booked my next stay in Kaohsiung–7 nights at D'Well Hostel (Spoiler Alert: I ended up staying only 2 nights here and canceling the rest. Click for full review).
Getting to Kaohsiung was easy. From the Taipei Main Station, I booked a one way ticket on the High Speed Rail at ~$50 USD. The entire trip took a little over 2 hours. That's quick considering Kaohsiung is pretty much on the other side of the island.
Upon arriving in Kaohsiung, the first thing I've noticed here was how many people were riding around in scooters! If you thought Taipei had a lot of scooters, Kaohsiung easily doubles that. Also, you must be careful when walking and crossing the streets because people do not pay attention to pedestrians as much. People on scooters ride onto the sidewalk like they would on bikes. It's a little different than Taipei, so be on alert!
The first thing I do after checking in to my hostel is to go outside and walk around the area. I like to know what restaurants are in proximity. Luckily for me, there's a tiny night market right across the street from my hostel–Xingzhong Night Market 興中夜市. This night market wasn't that big. It's basically just one block down, and you have vendors on either side of the street. Be really careful when walking through here because cars and scooters come through constantly. Food here is cheap, roughly NT$70-$80NT (~$2-$3USD) for an order of noodles. Drinks are around NT$30-$35, or ~$1USD.
DAY 5:
While working on my blog in the morning, something goofed up with my laptop touch-pad, so I ended up heading out to the ACER Service Center to try to get this fixed. It turns out it was just a small issue, and I wasted half a day trying to figure out the problem.
Anyway, I decided to head to Lotus Lake after, where the Dragon and Tiger Pagoda is. This area is a must see if you are ever in Kaohsiung. This lake is beautiful and the structure of the Pagodas is amazing. Around the area, there is also a temple, the Spring and Autumn Pavilions, a huge building resembling a God you can worship, and a Guanyin structure. I spent roughly 3 hours here just taking in the entire scenery and taking a bunch of pictures (My VLOG and full review of the area will come soon).
Here are just a couple pictures I took while I was there. It would be great if I can just take a walk around here everyday. It's very calming and relaxing.
FINAL THOUGHTS:
Definitely check out Lotus Lake when you are in Kaohsiung. Also on my list to visit while I am here is Fo Guang Shan. This is where the biggest Buddhist Monastery in Taiwan is located. I will post more about it soon. Stay tuned!