Living in Bangkok, Thailand | Thoughts After 2 Weeks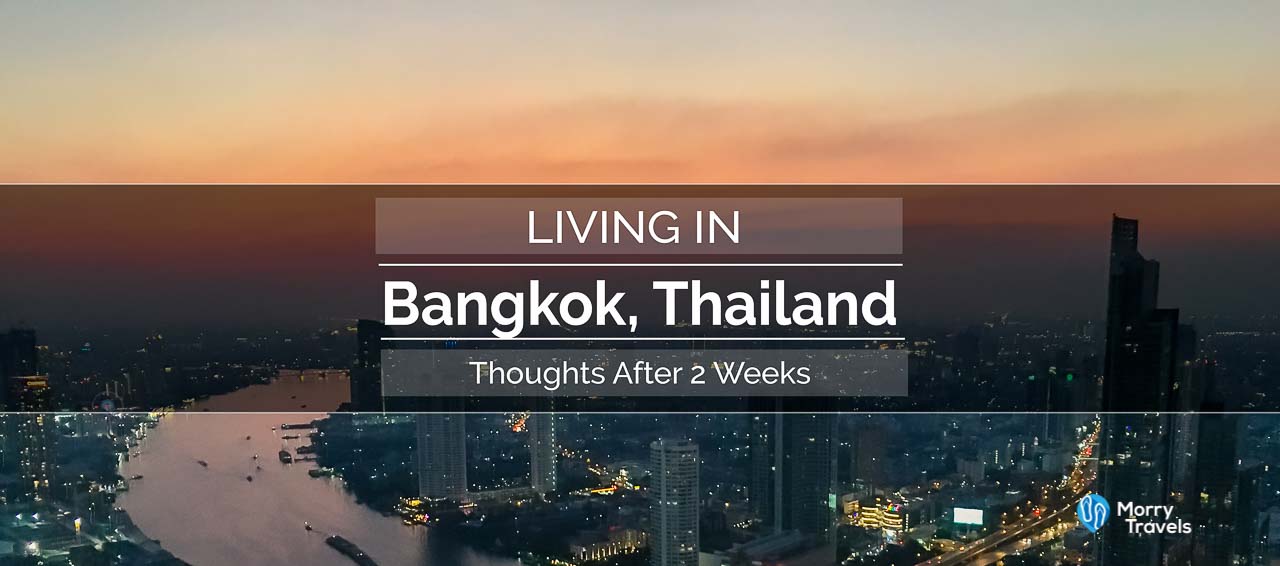 My Thoughts About Living in Bangkok, Thailand, After 2 Weeks
INTRODUCTION
Good Day Readers! I am finally back from my 6 month hiatus, and today I am writing to you from Bangkok, Thailand. I have been on the road for a little over a month now, and prior to Bangkok, I spent a few days in Taipei, a day in Singapore, a week in Bali, and another week in Jakarta. It's been a nonstop ride, and as I spend my remaining two weeks here living in Bangkok, I will be spending most of my time updating and revising this blog, editing videos, and sharing my experiences with all of you. With that said, here are my thoughts so far about living in Bangkok, Thailand – my 2 week perspective.
?

COMMUNICATION
It is really hard to meet "local" people who are fluent in English, but there are plenty of expats who can speak English. Most locals I have met so far only understand very basic English words. It's been pretty tough to have a full on conversation with them. Maybe I haven't met any fluent local English speakers yet, so hopefully this will change.
➡️

GETTING BY
It has been pretty easy getting by as a foreigner living in Bangkok. Ordering food here is not a problem as most places have English menus or pictures–Bangkok is pretty much centered on tourism as it's main source of income. Everything is catered towards foreigners. This is not the case when I was in Taiwan—Ordering food there was one of my biggest difficulties.
?

FOOD
Everything here is super cheap. I can get a full on, nice meal easily for around $2USD. If I want to save, I can easily get cooked supermarket food for even less. $20USD can get you close to the fanciest meals you can find in Thailand. If I am really on a budget, I can survive on just $30 a month for food.
?

RENT
Rent here is super cheap. Right now, we have an Airbnb in a really convenient area (next to Ekkamai BTS). For $1400USD a month, we have a really huge 2 bedroom 2 bath apartment, with our own private gym.
This is already us splurging. I normally would not pay this much for a place to stay anywhere in Asia, but we chose convenience over budgeting here. This brings me to my next point.
?

TRANSPORTATION
Bangkok has their own subway rail system (BTS), but it is not fully developed yet–so you can only take it to the major parts of town. Considering how many people are in Bangkok, their BTS is kept really clean, probably one of the cleanest I have seen.
If you want to go to other parts of Bangkok, you can take a Taxi or Grab, Southeast Asia's version of Uber, which you can use to call Taxis or Grab Motorbikes as well.
Traffic here is pretty bad. Going one block can sometimes take 20 mins if there's traffic on that street. Streets are not properly laid out, so even though you want to go somewhere half a mile away, you have to go through all these alleyways that take you even further away, before finding the main road that can take you to your destination.
Compared to when I was in Jakarta though, Bangkok's transportation is still way better.
At the very least, we can still walk to places since there are sidewalks, and a lot of buildings are modernized.
?

SAFETY
I feel pretty safe here in Bangkok. I never really felt like I would get mugged by walking on the street. Of course, there will always be some people you should be more vigilant around, but just use some common sense. Overall, the people here are really nice. And yes, be careful of lady boys and "working girls" who are out to make a quick buck off you, but if you avoid those areas to begin with, you will be fine.
➡️

OVERALL
I am loving Thailand so far and would not mind living in Bangkok. My money goes so much further here. It's no wonder that Bangkok is the most visited city in the world for three years in a row now. There's so much going on in this city and so much to see. 30 Days here still isn't enough. This is my third time in Bangkok and my 4th time in Thailand (I've already visited Phuket and Chiangmai). Bangkok by far has the most international variety. I can't really get bored here.