Days 19-25: Back to Kaohsiung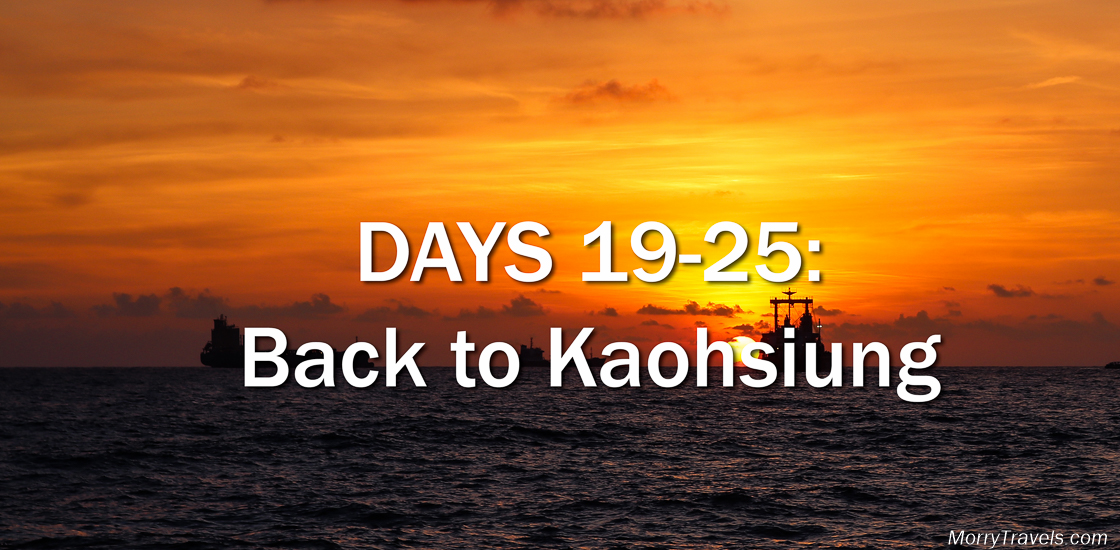 After two days in Tainan, I started experiencing some beginning signs of "travel burnout." I started noticing this after the first day in Tainan. I wasn't as excited to check out a new city and I was craving to just go somewhere familiar and rest. I was tired of jumping around different hotels and hostels in different cities every few days. There was just too much going on and I needed to slow down a bit.
I started googling online about this issue. It seems like it happens to a lot of long-term travelers. Sometimes this happens a week or two in, sometimes it happens months or even a year in, but it does set in eventually. For me, it started happening right as I hit the 3-week mark.
A great tip I've read for curing travel burnout is to just slow down and recover. This means staying in one location for awhile and just establishing some sort of routine.
I decided to rent an AirBnB in Kaohsiung for a week to just rest and get some blogging done. I had a lot of pictures and posts to type up, and I think the thought of having to do so many things tired me out.
During this time, I was lucky enough to have a met local Kaohsiung friend who showed me around the city. She took me around to some of her favorite bars, took the ferry to Cijin Island, and even got to watch the sunset at a secret spot only locals would know. She even took me to her home further away from the city center, and I was lucky enough to have her parents take me to the local fish market here. When I looked online for things to do in Kaohsiung, the fish market was never mentioned. We ate a lot of seafood there, and it was the first meal in Taiwan where I actually stuffed myself.
The week here spent by myself in the Airbnb was great. I was able to recover from my burnout and now I am itching to travel to the next place again. Next stop: Chiayi!